Leaving 2020 far behind
2020 was a long and challenging year, and many of us are enthusiastic about leaving it far behind. We've all baked banana bread, organised the junk draw, tried yoga, and invested in even more house plants. But now it's time to look into the future and start thinking about moving forward.
There is no better place to start thinking about the future than in your own home. Your daily
surroundings can have a massive impact on your mental health, so you need to pay attention to what your home is telling you. Right now, that means making sure it's up to date with the latest trends so you can leave the stress of 2020 behind you. So, if you're looking to redecorate and rejuvenate your home, we have identified the top trends and the most popular colours of 2021.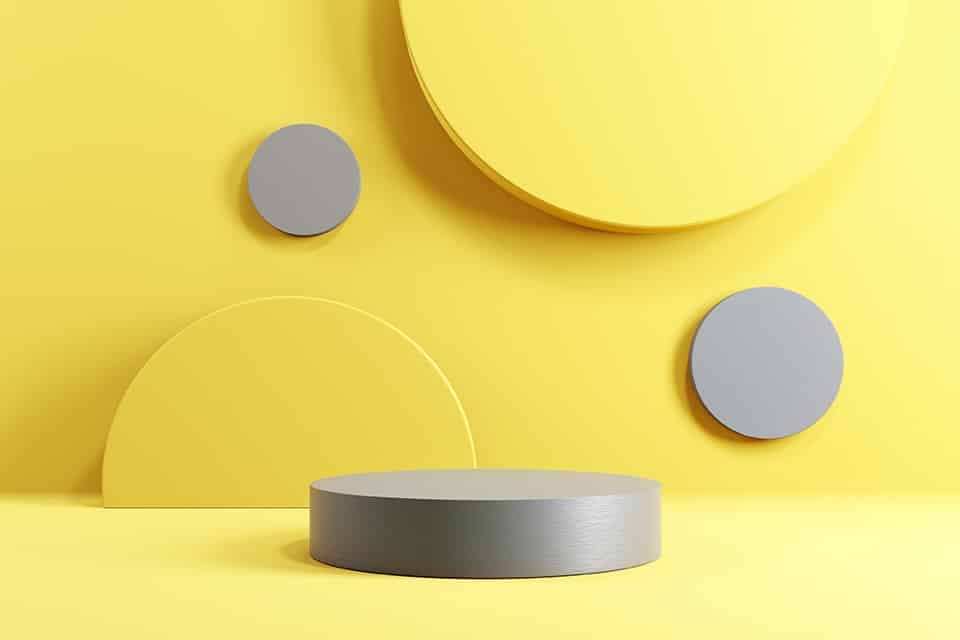 Every year Pantone releases what it considers to be the top colours of the year. For 2021 the famous colour company has selected Ultimate Gray and Illuminating Yellow as the two colours of the year. The website says this is "A marriage of colour conveying a message of strength and hopefulness that is both enduring and uplifting."
We're all hoping that 2021 will be more uplifting than 2020. As such, don't be surprised if you see this colour combo popping up everywhere. The neutral grey provides a fantastic base colour, so the yellow can really stand out and bring attention to key features of your home. If you want a more subtle look, keep the main pieces in shades of grey and bring the colour to the soft furnishings such as cushions, curtains, and even rugs. These stunning tiles are the perfect shade of yellow balanced against a strong blue for a bolder look
If yellow isn't your colour, you can still bring a splash of colour to your home to bring some life and energy back after a draining year. Select a neutral base such a grey, beige, or white, and then add splashes of your favourite colour. We like these grey tiles for a super glossy effect. Just add some brightly coloured decorations to bring in some happiness and wait to see how 2021 is a better year than last year.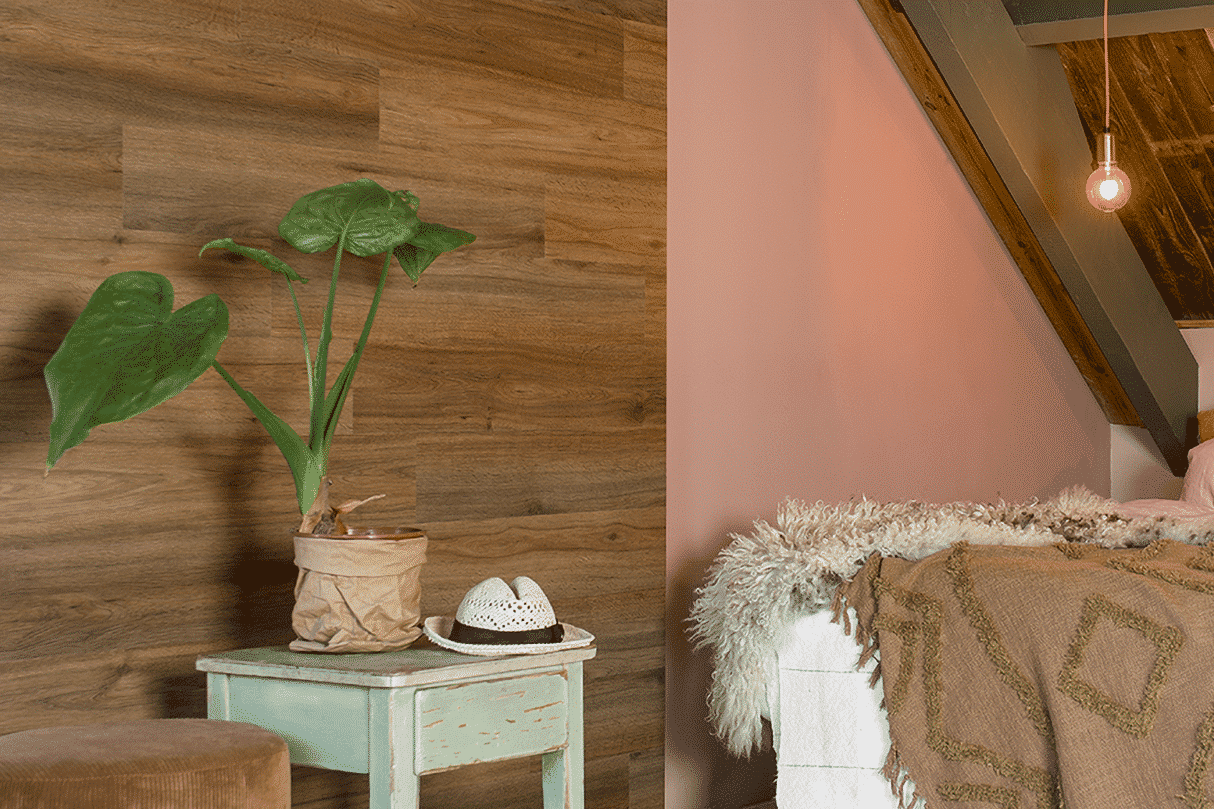 Cottagecore, otherwise known as a rustic-chic aesthetic, has really taken off over the last few months. The soft, natural countryside charm has found its way into our hearts and homes, and it's here to stay. Make your house a beautiful haven away from the stresses of the world by embracing this trend. As a warning, turning your home into a cottagecore fantasy may lead to an obsession with ethereal music, excessive baking, and the desire to run through forests hunting fairies. Don't say we didn't warn you!
Introduce lots of plants and texture to your home with wood, stone, tile, and pottery taking centre stage. If you can't turn your home upside down with wooden panels and tiled floors, try our selection of wall tiles and panels to bring textures into your home without breaking the bank. We love these wood look-a-like wall stickers to create a stunning rustic feature wall.  Add contrasting textures to the walls like this iron clock and this faux elk taxidermy.  The more natural surfaces you can include, the better. 
Keep your colour pallet fairly neutral with darker tones of rust red, browns, deep greens, and a few pale pinks. You'll also want lots of plants in cute pots like this one to help bring nature inside. This calming interior trend for 2021 makes us happy to be spending time at home. Your home is your quiet place full of your own stories and mysteries, and we're pleased to see this trend bringing some real love back into people's homes. Your home doesn't just have to be functional; it can be beautiful too!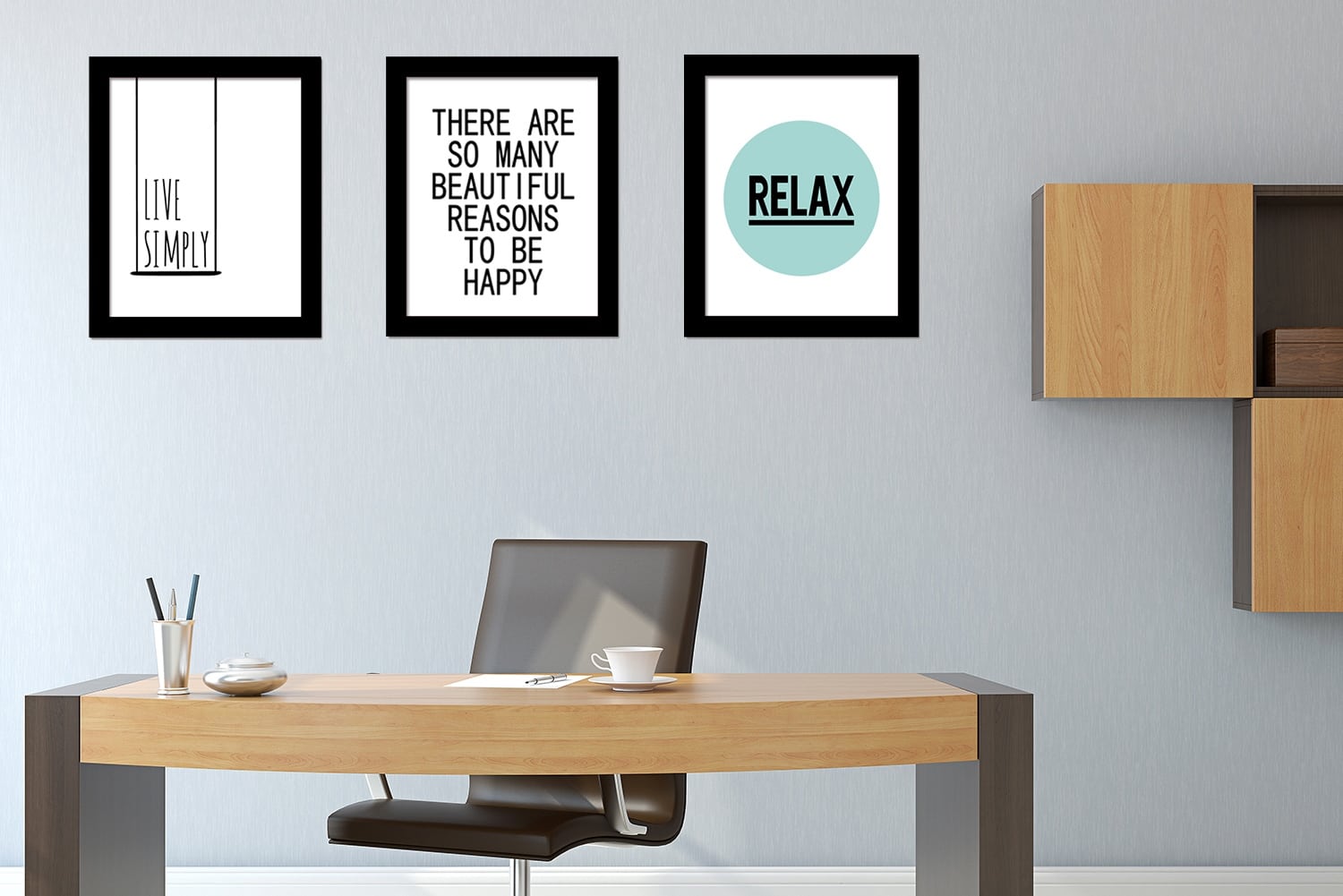 2020 was the year of working from your kitchen room table surrounded by old bills, breakfast leftovers, and takeaway leaflets. 2021 is the year you finally make a dedicated home office space where you can work in peace. One of the few things coming into 2021 is working from home, which means this is the year you actually find a space to make your own. 
A home office doesn't need to be a dedicated room in your house; you just need a small space. A spare table, spare bedroom, or even the garden shed will do. The first thing is to invest in a proper office chair to stop your backache. Then you should think about how to carve out a section of your house dedicated to working. These wall panels make a very professional backdrop to any Zoom call without turning your home into an office (and they're eco-friendly). Add some wall art like this stylish matching trio of prints or a stunning wall clock for a polished look you'd be proud to show off to colleagues. 
If you want to make a clear distinction between your home and your working space, why not use one of our rugs like this bold patterned one under your desk. This will give some definition to the room and help you get in the right mindset for working. If you want some real separation, invest in a foldable room divider. This will give you a real sense of division between your working life and relaxing time.
Pastel and neutrals in the kitchen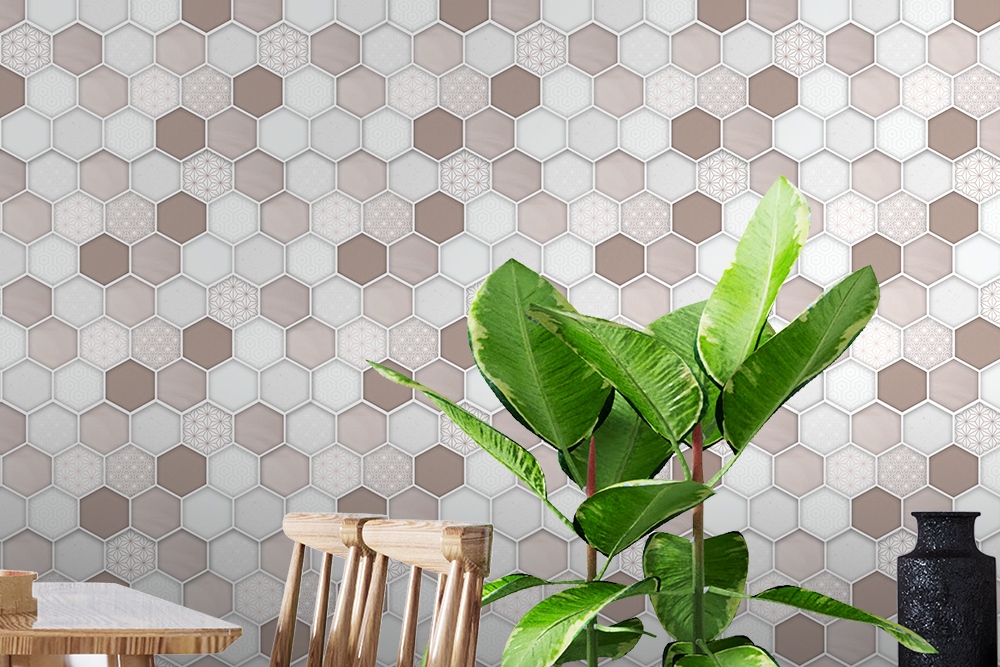 Last year we baked banana bread and realised that spending time in the kitchen was fun. This year is the year you give a little bit back to your kitchen by giving it a makeover. Experts predict that the kitchen will be one of the most renovated rooms in the house this year as we all put our new cooking skills to the test. 
Kitchen makeovers don't have to be super expensive. If you know what sort of vibe you are going for, there are some great ways to update your kitchen without ripping it out and starting again. Our wall tiles can make a great splashback feature in the kitchen as they are wipe-clean and water-resistant. We like these glossy hexagonal tile stickers for a clean, bright look. Neutral and pastel colours are set to take over the kitchen so start by planning your wall space. 
Neutral colours allow you to really focus on your cooking and let the food take centre stage. They are also very clean and crisp colours, which means your kitchen will feel tidy and sanitized, and you'll actually enjoy spending time there. To bring in extra light and a touch of glamour, add a mirror like this classic circle one to reflect the colours back.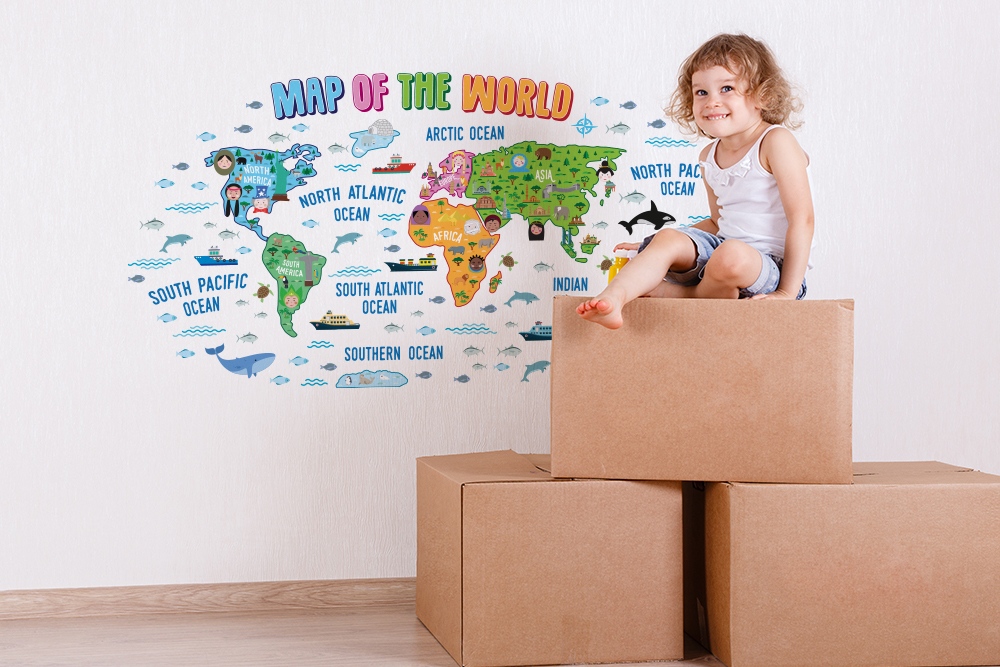 With home-schooling still very much a reality, your home has suddenly become a classroom. In 2021, we're turning the nursery and kids' rooms into mini-classrooms but with much more fun! At WALPLUS, we've got a whole range of fun wall stickers that you can put up and peel off quickly as your child learns and grows. Why not start with this world map sticker to help with their geography. Then you add some brightly-coloured animals or some numbers and letters. 
Bright colours help make the room fun and inviting and ensure your child's learning feels natural and easy.   Our wall stickers are super easy to change so your child's room can grow and change as they do. They'll never get bored of all the new designs and imaginative decorations, so home-schooling will get just that little bit easier. Help them learn how to tell the time while counting down the second until school is over with this educational wall clock. Home-schooling can be challenging and feel overwhelming, but if you've got the right tools and good space, it doesn't have to be a nightmare!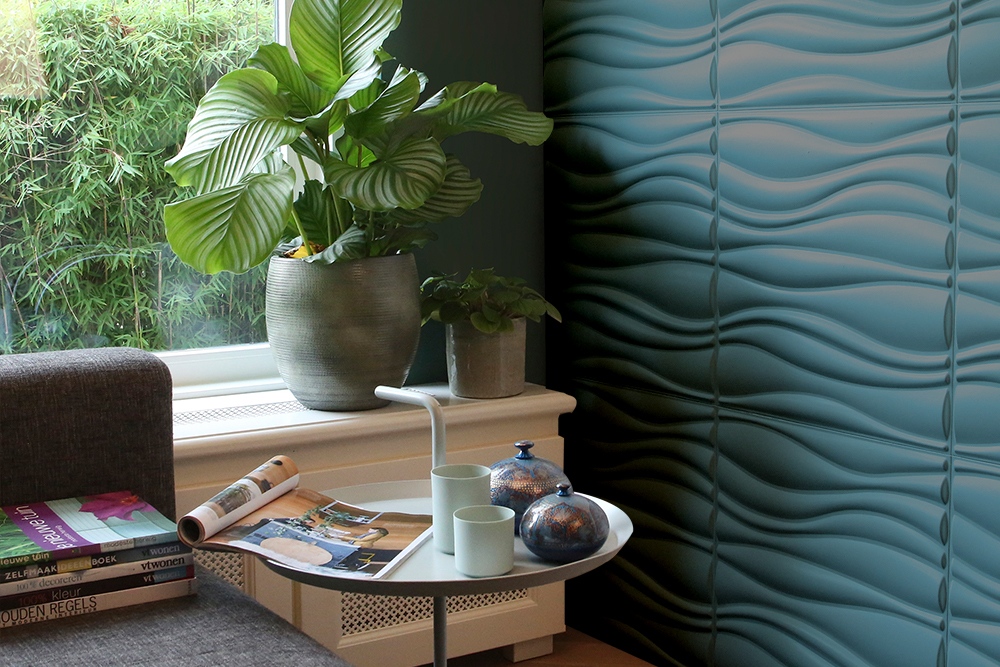 Although 2020 was the year we all stayed home, but 2021 will be the year where we truly appreciate how much our homes mean to us. Home is a safe space where you can leave your mark and create your own bubble. With our easy, peel-off solutions, even temporary homes can be redecorated easily. 
Here at WALPLUS, we're all about making your home feel like your own, so make sure to put your own spin on these popular trends to create your own perfect space. We hope we've provided you with some inspiration to show your home some love this year. The only question now is; which trend will you start with?